Скачать Windows 10 Anniversary Update Bible
Скачать Windows 10 Anniversary Update Bible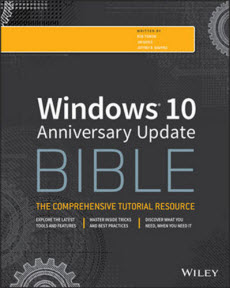 Всем добрый день, сегодня предоставляю вашему вниманию, очень свежую книгу посвященную операционной системе Windows 10 Anniversary Update.
Год издания: 2017
Автор: Tidrow R., Boyce J., Shapiro J.
Издательство: Wiley
ISBN: 978-1119356332
Язык: Английский
Формат: PDF
Качество: Издательский макет или текст (eBook)
Интерактивное оглавление: Да
Количество страниц: 792
Описание

:

Your all-inclusive guide to Windows 10 Anniversary Edition Windows 10 Bible, Anniversary Update presents the ultimate reference for enterprise and professional Windows 10 Anniversary Update users. From setup and settings to networking and the daily workflow, this book provides expert guidance on all aspects of the OS.

Read from beginning to end for a comprehensive tour of all of the nooks and crannies, or dip in as needed to find quick answers to your most pressing issues—formatted as a reference divided into mini-tutorials, this guide delves deep into the Windows 10 Anniversary Update to walk you through every inch of functionality. Personalize your settings, desktop, and security to augment the way you work; configure Windows 10 for enterprise with remote access, groups, and Hyper-V; set up a private network for two or 20 computers, and manage security to keep your content safe—everything you need to know is explained here.


This book provides clear, authoritative guidance toward every aspect of the old and new to help you take advantage of everything Windows 10 Anniversary Update has to offer.
Customize your Windows 10 Anniversary Update experience
Install and remove hardware and software
Set up your network and configure security
Manage content, connect to printers, and troubleshoot issues
Clear your to-do list faster than ever with Cortana voice commands, Windows Ink, Windows Hello, and a cross-platform capability that allows you to integrate a range of platforms including tablets, phones, Raspberry Pi, and even Xbox. Even if you're an experienced user, you're probably missing out on some very cool features—let the Windows 10 Bible, Anniversary Update fill the gaps and take your Windows 10 experience to the next level.
Part I: Getting Started
Chapter 1: What's New in Windows 10
Chapter 2: Navigating the Windows 10 Interface
Chapter 3: Getting around the Windows Desktop
Chapter 4: Sharing and Securing with User Accounts
Chapter 5: Troubleshooting Startup Problems
Part II: Personalizing Windows 10
Chapter 6: Protecting Yourself with Windows Firewall
Chapter 7: Automatic Updates as Security
Chapter 8: Personalizing the Windows 10 Interface
Chapter 9: Personalizing the Desktop
Chapter 10: Customizing Startup Options
Part III: Windows 10 for the Enterprise
Chapter 11: Setting Up Windows 10 Hyper-V
Chapter 12: Configuring Windows 10 Hyper-V
Chapter 13: Using Computers Remotely
Chapter 14: Managing Windows 10 Hyper-V in an Enterprise
Chapter 15: Working in the Cloud and with Azure
Part IV: Managing Your Content
Chapter 16: Searching for Files and Messages on Your Computer
Chapter 17: Using Cortana for Searching
Chapter 18: Metadata and Power Searches
Chapter 19: Protecting Your Files
Part V: Printing and Managing Printers
Chapter 20: Installing and Managing Printers
Chapter 21: Managing Print Jobs
Part VI: Installing and Removing Programs
Chapter 22: Adding and Managing Windows 10 Applications
Chapter 23: Installing and Upgrading Legacy Programs
Chapter 24: Getting Older Programs to Run
Chapter 25: Repairing and Removing Programs
Chapter 26: Setting Default Programs
Chapter 27: Managing Programs and Processes
Chapter 28: Troubleshooting Software Problems
Part VII: Hardware and Performance Tuning
Chapter 29: Installing and Removing Hardware
Chapter 30: Using Wireless Bluetooth Devices
Chapter 31: Performance-Tuning Your System
Chapter 32: Troubleshooting Hardware and Performance
Part VIII: Networking and Sharing
Chapter 33: Creating a Small Office or Home Network
Chapter 34: Sharing Resources on a Network
Chapter 35: Using Shared Resources
Part IX: Managing Windows 10 in an Enterprise
Chapter 36: Imaging and Deploying Windows 10
Chapter 37: Using Windows 10 Group Policies on a Network
Chapter 38: Securing Windows 10 for the Enterprise
Part X: Appendixes
Appendix A: Upgrading to Windows 10
Appendix B: Installing Windows 10 on a New System
Appendix C: Universal Shortcut Keys
Appendix D: Windows 10 Touch Gestures