NetApp Quota Enable / Disable / Resize & Show Size & Usage
Обновлено 26.05.2019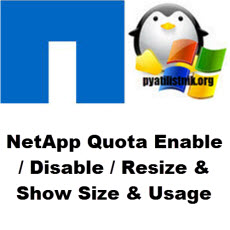 What is NetApp Quota ?
Good day! Dear readers and guests, the largest IT blogs in Russia Pyatilistnik.org. A storage administrator would enable NetApp quota to set a size limit that each user can consume on the NetApp filer. For examaple you could set a NetApp quota to restrict all users to 10Gb of disk usage each, preventing them form using more space. Without disk quota there would be nothing to stop a user consuming all the disk space available to them on the NetApp filer.
This Netapp Quota Management HowTo is useful for
Enable User Quota
Enable NetApp Disk Quota
NetApp Enable User Quota
NetApp Show Quota Usage
Enable Quota NetApp
Disable NetApp Quota
NetApp Disable Quota
NetApp Resize Quota
NetApp Quota Resize
NetApp Quota Management
NetApp Enable Quota Command
To enable the user / disk quota on a NetApp enter:
The above will enable NetApp quota on the filer.
NetApp Disable Quota
To disable NetApp quota enter:
NetApp Resize Quota
To resize the NetApp Quota:
NetApp Show Quota Usage & Size
To show the NetApp quota usage / size enter: