Netapp Show RAID Configurtion, Reconstruction Info.
Обновлено 26.05.2019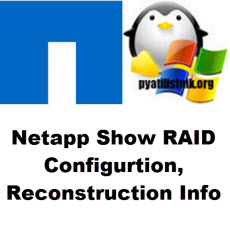 Good day! Dear readers and guests, the largest IT blogs in Russia Pyatilistnik.org. We continue with you the cycle of publications related to storage systems from the company NetApp. I am sure that in many large companies, this brand is prevalent in their infrastructure. In view of the fact that it is one of the leaders in this segment. RAID technology from this vendor, one of the most reliable, but with them you need to be able to work, as in any case. Netapp Show RAID Configuration, reconstruction information. This command displays Netapp RAID setup and rebuild status and other information such as spare disks.
Netapp Display RAID configuration
Enter the following command to show the RAID config:
netapp> aggr status -r
The output should look similar to:
1




2




3




4




5




6




7




8




9




10




11




12




13




14




15




16




17




18




19




20




21




22




23




24




25




26




27




28




netapp> aggr status -r


Aggregate aggr0 

(

online, raid_dp

)

 

(

block checksums

)


  Plex /aggr0/plex0 

(

online, normal, active

)


    RAID group /aggr0/plex0/rg0 

(

normal, block checksums

)



      RAID Disk   Device  HA  SHELF BAY CHAN Pool Type  RPM  Used 

(

MB/blks

)

    Phys 

(

MB/blks

)




      ---------   ------  ------------- ---- ---- ---- ----- --------------    --------------


      dparity     v5.16   v5    ?   ?   FC:B   -  FCAL 15000 1020/2089984      1027/2104448


      parity      v5.17   v5    ?   ?   FC:B   -  FCAL 15000 1020/2089984      1027/2104448


      data        v5.18   v5    ?   ?   FC:B   -  FCAL 15000 1020/2089984      1027/2104448






Spare disks



RAID Disk Device  HA  SHELF BAY CHAN Pool Type  RPM  Used 

(

MB/blks

)

    Phys 

(

MB/blks

)




--------- ------  ------------- ---- ---- ---- ----- --------------    --------------


Spare disks 

for 

block checksum


spare     v5.19   v5    ?   ?   FC:B   -  FCAL 15000 1020/2089984      1027/2104448


spare     v5.20   v5    ?   ?   FC:B   -  FCAL 15000 1020/2089984      1027/2104448


spare     v5.21   v5    ?   ?   FC:B   -  FCAL 15000 1020/2089984      1027/2104448


spare     v5.22   v5    ?   ?   FC:B   -  FCAL 15000 1020/2089984      1027/2104448


spare     v5.24   v5    ?   ?   FC:B   -  FCAL 15000 1020/2089984      1027/2104448


spare     v5.25   v5    ?   ?   FC:B   -  FCAL 15000 1020/2089984      1027/2104448


spare     v5.26   v5    ?   ?   FC:B   -  FCAL 15000 1020/2089984      1027/2104448


spare     v5.27   v5    ?   ?   FC:B   -  FCAL 15000 1020/2089984      1027/2104448


spare     v5.28   v5    ?   ?   FC:B   -  FCAL 15000 1020/2089984      1027/2104448


spare     v5.29   v5    ?   ?   FC:B   -  FCAL 15000 1020/2089984      1027/2104448


spare     v5.32   v5    ?   ?   FC:B   -  FCAL 15000 1020/2089984      1027/2104448

This Netapp HowTo is useful for the following
Show Netapp RAID Configuration
Netapp Show Disks
Show Spare Disks Netapp
Netapp Show Speed of Disks
Netapp Show Fiber Channel
Show Netapp RAID Rebuild
Netapp RAID Reconstruction info
Netapp RAID Build Status